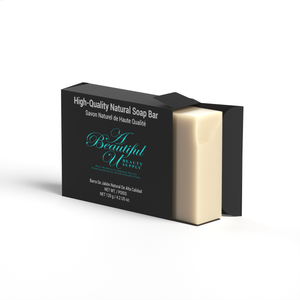 Very mild and wonderful for your skin, the Natural Soap Bar is made from scratch using quality plant-based oils for their moisturizing properties. Nothing but the oils with farm fresh goat's milk, making it even more gentle and mild. Packed full of essential nutrients and vitamins, goat's milk soothes and hydrates even the most sensitive skin. Goats milk rich in proteins, vitamins and minerals. Its gentle and nourishing properties bathe your skin in luxury. The milk naturally exfoliates your skin, leaving you feeling refreshed and silky soft. With a rich lather and warming aroma, this is one of the most luxurious bars of soap on the market.
Helps clear acne, remove blemishes, fight bacteria and body odor.
Rejuvenates, soothes, moisturizes dry skin and relieve athlete's foot.
Soothes burns, cuts and insect bites.
Soothes and moisturizes dry skin. Exfoliates dead skin cells, unplug pores.
Anti-Bacterial, Healing and Hydrating.
Anti-inflammatory properties help to soothe sore muscles and joints.
Natural disinfectant for after hair removal and controlling razor bumps and ingrown hair.
Invigorating scent helps to relieve sinus, colds, and flu symptoms.
Versatile use, can be used as a face soap, body soap, shaving soap or hand soap, for men and women.
Chemical-free, made without using any artificial colorants, parabens, Suitable for all skin types, and can be gentle enough for sensitive skin.
Olea Europaea (Olive) Oil, Cocos Nucifera (Coconut) Oil, Elaeis Guineensis (Palm) Kernel Oil, Water/ Aqua/ Eau, Sodium Hydroxide, Butyrospermum Parkii (Shea) Butter, Ricinus Communis (Castor) Seed Oil, Lavandula Angustifolia (Lavander) Flower Oil, Goat milk, Eucalyptus Globulus Leaf Oil, Melaleuca Alternafolia (Tea Tree) Leaf Oil